Complete Tutorial to Transfer to New iPhone 11/11 Pro (Max)
Data transfer to new iPhone should have been much easier. Find here 5 ways to do it without any hassle, and the one-click tool to switch to new iPhone 11/11 Pro (Max).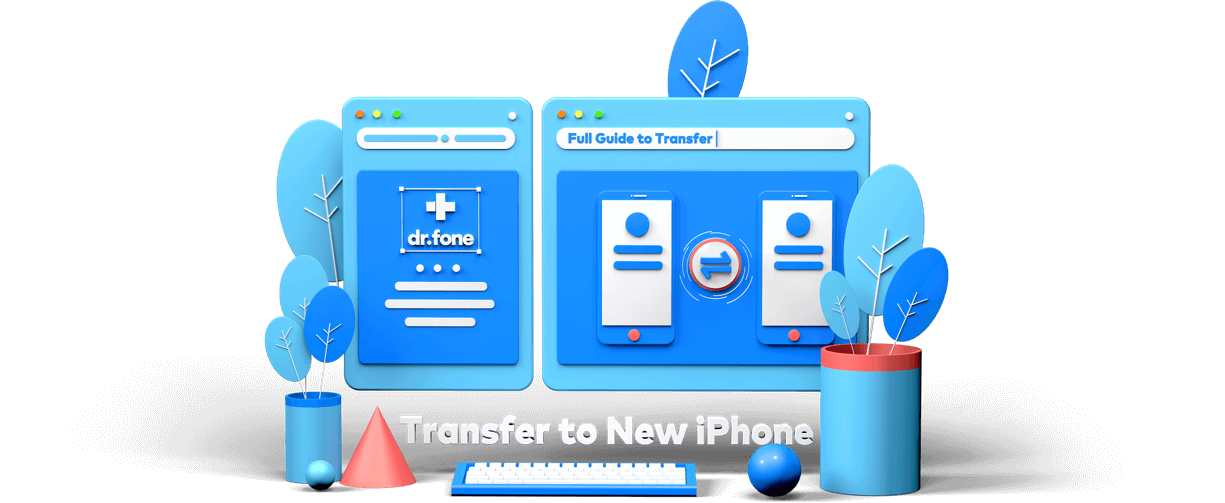 Summary:
Do you wish to switch to new iPhone 11/11 Pro (Max) without experiencing any data loss? Read on and learn how to transfer data from old Android/iPhone to iPhone seamlessly. While there are several third-party tools available to do the same, you can also take the assistance of Apple's native solutions.
Part 1. Backup your old iPhone/Android phone
When do people lose phone data most around a year? The answer is when there is a new phone released, especially Samsung and Apple devices. So before transferring to new iPhone 11/11 Pro (Max), do remember to backup data on your old phone first. It's always better safe than sorry.

Connect your Android/iPhone to Dr.Fone.
Choose the data types.
1 click to backup the device in minutes.
Features:

This way allows you to selectively backup any phone data to computer.
The backup happens in one click.
Data can be restored to any Android or iPhone, by retaining existing data on the target device.
Data backup is free, but restoring is not free.

Backup old iPhone in Apple's way
Apple provides both iCloud and iTunes for iOS users to back up their old iPhone for free. Nevertheless, the iCloud and iTunes backup files are not viewable, and inconvenient to restore when your new iPhone 11/11 Pro (Max) already have some data.
Features:

With iTunes and iCloud, you have no choice but to backup the whole device.
Every time you restore the backup, you need to factory reset your iPhone.
Data restoring will completely erase existing iPhone data.

Most Android devices also have their official ways to backup the device, such as Samsung Smart Switch, Huawei backup app. But it will not be easy when you want to restore the backup to your new iPhone 11/11 Pro (Max).
Features:

Most official ways don't support all data types.
A lot of users meet issues when using official solutions, such as Smart Switch.
Part 2. Transfer to New iPhone 11/11 Pro (Max) from Any Old Phone
When transferring data to new iPhone 11/11 Pro (Max), most of us cannot stand the complex work of distinguishing old iPhone and Android models. What we want is simple: transfer to iPhone regardless of old phone models, and ideally, at one click. Is it a fantasy?
Why Choose Dr.Fone to switch to new iPhone 11/11 Pro (Max)?
With iCloud or iTunes, we can also restore the backup content to new iPhone 11/11 Pro (Max). But usually it will take a very long time and unexpected situations happens quite often.
But with Dr.Fone, we can transfer everything from old phone to new iPhone 11/11 Pro (Max) selectively, without affecting the existing data on your already setup iPhone.
Switch to new iPhone in 1 click!
Transfer Contacts, Messages, Call history, photos, Music, etc. to new iPhone.
Work perfectly with more than 6000 Android and iOS devices.
Fully compatible with iOS 13 and Android 9.0.
3 Easy Steps to Switch to New iPhone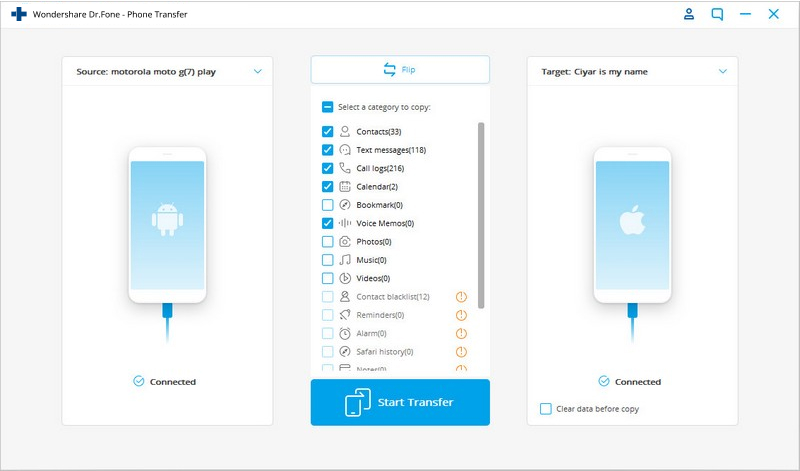 Launch Dr.Fone and click "Switch" to open the phone switch tool.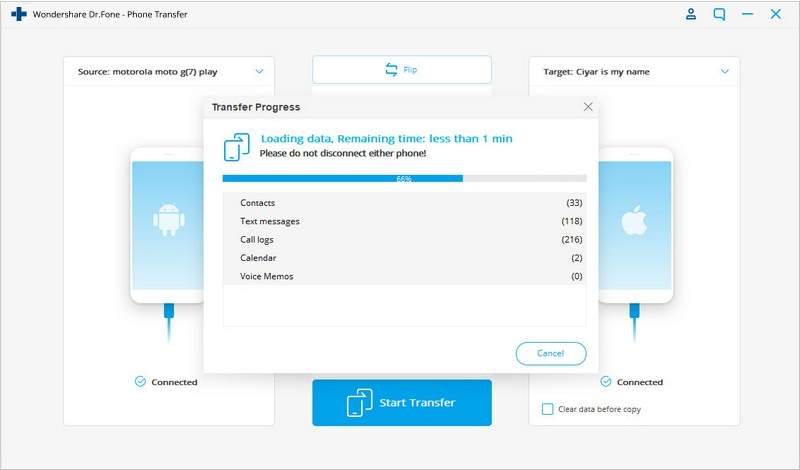 Select data categories and click "Start Transfer".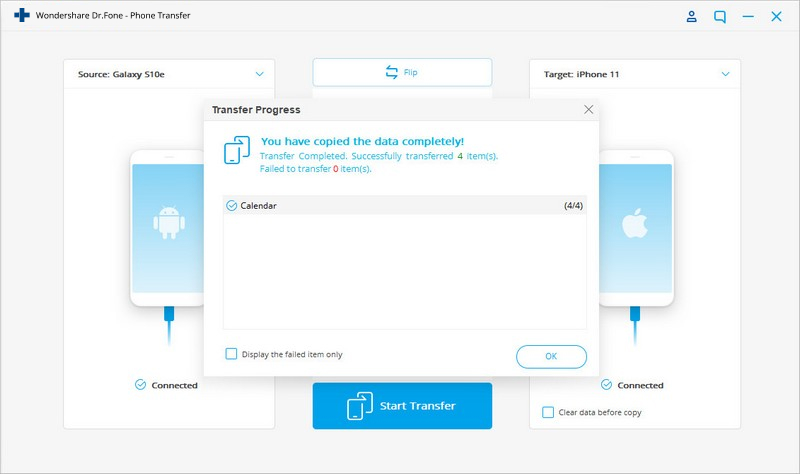 You will find the data transfer can be completed shortly.
Part 3. Transfer from old iPhone to new iPhone
It might sound surprising, but a lot of people can't seem to transfer to new iPhone their data from their old iOS device in the right way. The good news is that Apple lets us directly transfer our files from iOS to iOS via Quick Start. Apart from that, you can also restore an existing iCloud or iTunes backup too. Let's explore these solutions in detail.
3.1 Transfer data to new iPhone 11/11 Pro (Max) from Quick Start
If your device runs on iOS 11 or a later version, then you just take the assistance of Quick Start to transfer to new iPhone. To do this, you need to connect both the phones by holding them over one another. Though, if both the devices run on iOS 12.4 or a later version, then you can use iPhone migration to transfer your data wirelessly too.
1

Place both the devices in close proximity and power on your new iPhone. During the setup, you will get a Quick Start option. Simply tap on it to continue.

2

The "Set Up New iPhone" prompt will appear on your old device. Verify the displayed Apple ID and tap on the "Continue" button.

3

An animation will appear on your new iPhone. Now, take the old iOS device and hold it over the animation so that the view finder would be able to capture it.

4

That's it! This will connect your old and new iOS devices. On your new iPhone, you will get a prompt of entering passcode. Enter the passcode of your old iPhone to bypass the verification.

5

You will be asked to connect your new iPhone to a working WiFi network. Do the same by entering the network password and agree to the data privacy prompt.

6

Furthermore, set up the Face ID, Touch ID, and sign-in to the Apple account by entering your password.

7

In the end, you will be asked to restore data from your old phone. Now, you can transfer to new iPhone your existing apps, settings, media files, and more.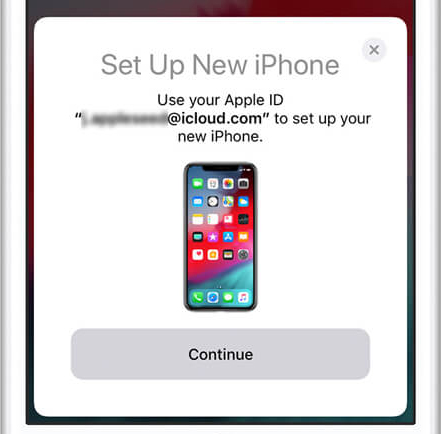 Note:
Both the devices should be running on iOS 11 or newer versions, and use the same Apple ID.
They should have WiFi and Bluetooth enabled, and be placed in close proximity.
During the transfer, both the devices would be occupied and you can't access either of them.
You can only use this solution on the iPhone setup process. So if the device is already setup, you'll have to erase it first.
3.2 Move all data using an iCloud backup
Apart from Quick Start, you can also restore your previous iCloud backup to your new device. Before you proceed, just make sure that you have already taken a backup of your data from the previous device. Also, you should know the Apple ID and password of the linked iCloud account. Please note that it will only restore iCloud backup data and will not transfer SIM data or any other saved settings. To transfer to new iPhone your iCloud backup, just follow these easy steps:
1

Unlock your existing iPhone and go to its Settings > iCloud. In newer iOS versions, you need to tap your Apple ID to get iCloud settings.

2

From here, visit the Backup feature and turn on iCloud Backup. Maintain a stable connection as your device would store a dedicated backup on iCloud.

3

Now, turn on your new iPhone and initiate the setup. Once you connect to WiFi, you will get an option to restore iPhone data. From here, tap on "Restore from iCloud Backup" feature.

4

Subsequently, you need to log-in to the same iCloud account where your backup is stored. Once it is done, you will get a list of the available backup files.

5

Select the relevant iCloud backup file from here and wait for a while as it would be downloaded and restored to your device.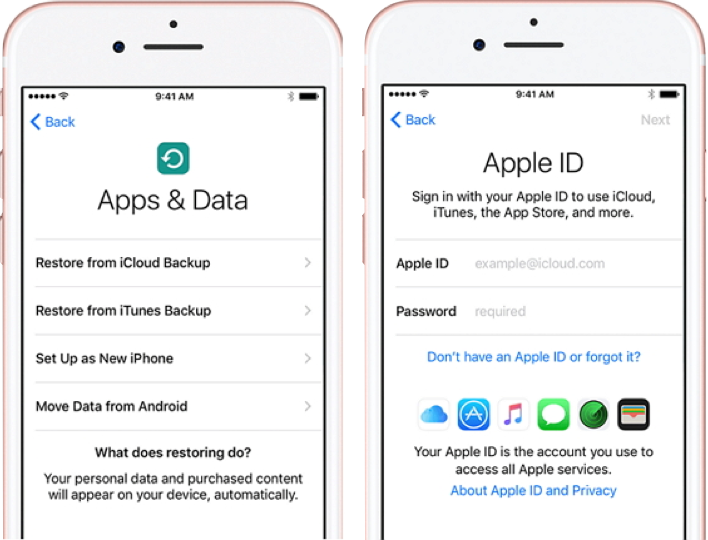 Note:
Any existing data on your new iPhone would be deleted in the process. You will only get this option while setting up a new device.
Unpair any other connected device (like Apple Watch) from your iPhone beforehand.
Your iCloud has only 5 GB of free storage to hold your iPhone data. If you have much iPhone data, expand the iCloud storage or try an alternative way to back up.
3.3 Transfer all data to new iPhone 11/11 Pro (Max) using iTunes
This is the last yet one of the most popular solutions to switch to new iPhone 11/11 Pro (Max) from an existing iOS device. Since iTunes is developed by Apple and is an extremely reliable tool, you don't have to worry about the security of your data. You can first backup the data from old iPhone to iTunes and later restore it to your new device. To switch to new iPhone from a previous iTunes backup, follow these steps:
1

Connect your old iPhone to the system and launch iTunes on it. Select the connected device and go to its Summary.

2

Under the Backups option, you can see different features. From here, click on the "Backup Now" button and choose to backup your data on "This Computer" instead of iCloud.

3

After when you have finished the backup process, disconnect your device and turn on the new iPhone.

4

While setting up the new device, you will get notified to restore backup. Choose to restore data from iTunes backup and connect your iPhone to the same system.

5

Launch iTunes, select the device, and go to its summary. Now, click on the "Restore Backup" button instead.

6

In the end, just select the backup file of your choice and click on the "Restore" button to transfer to new iPhone 11/11 Pro (Max) the backup content.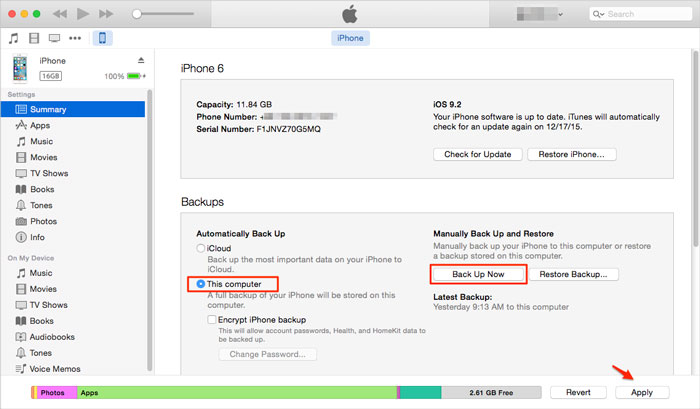 Note:
Restoring iTunes backup will wipe out all existing data & settings on your new iPhone.
You cannot selectively transfer only what you want to your new iPhone.
Your new iPhone should have an iOS version newer than or the same as your old iPhone.
Part 4. Transfer to new iPhone 11/11 Pro (Max) from an old Android
To make it easier for Android users to switch to new iPhones, Apple has come up with this dedicated solution. Android users can simply install the Move to iOS app on their devices to connect it to a target iPhone and transfer their data. While it can't restore the entire device data, it can transfer most of the important content like contacts, camera photos/videos, message history, mail accounts, bookmarks, and calendar. To transfer from old Android to iPhone these files, you can follow this simple drill:
1

To start with, go to the Play Store on your Android device and install the Move to iOS app on it.

2

Now, turn on your new iPhone and start the initial setup. From here, tap on the "Move data from Android" option.

3

This will give you an initial prompt on the screen. Tap on the "Continue" button on both the devices and make sure that they are connected to a working WiFi network.

4

Afterward, you will get a unique 12-digit code displayed on your iPhone screen. Enter this code on your Android to establish a secure connection between both the devices.

5

That's it! Once both the devices are successfully connected, you can just select the data you wish to transfer on your new iPhone 11/11 Pro (Max).

6

Tap on the "Next" button and wait for a few minutes as it would transfer from old Android to iPhone the selected data.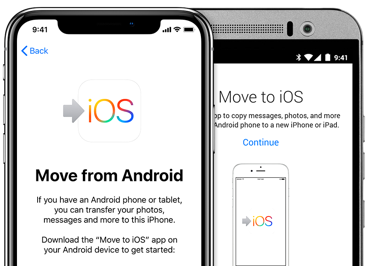 Note:
The app only supports the devices running on Android 4.0 or later versions.
Both the devices should be connected to a stable WiFi network during the process.
It will not transfer your applications like WhatsApp data, saved settings, notes, or any other kind of third-party data.
Part 5. Deal with Old Phone after Transferring to New iPhone 11/11 Pro (Max)
Privacy is the first thing you need to pay attention to. Our devices contain banking information, logins, emails and so much more. Completely wiping everything on your old phone will not only give the new user a clean slate but also protect you from any malicious attacks, identity theft, financial fraud or misuse of private photos. Here we suggest 4 ways to deal with your old devices after you switch to new iPhone.
Protect Privacy on Old Phone
This is the most important thing you need to do before selling or giving away old phones, so your privacy doesn't end up in the wrong hands. There are many ways to delete privacy data, but using a professional tool such as Dr.Fone - Data Eraser (iOS) is the easiest and safest option.
Amazon Trade-in Program
No matter what dinosaur your phone is, your best option is probably Amazon's Trade-In program. You will need to answer a simple question and then Amazon will offer you a flat-rate gift card that is basically determined by the 3 Cs of phone trade-ins: carrier, capacity and condition.
Sell it on e-Bay
eBay is another one of the best places to sell your old phones, as it provides both the seller and the buyer protection, people are more comfortable buying from strangers with protection. But eBay charges 10% of final value as a sales fee. On eBay, you can either choose List it yourselt or Sell it with Quick Sell.
Carrier Buybacks
11 major carriers also provide buyback programs for your old phones to be refurbished and resold, or recycled properly. Especially, In Sprint, you can trade in up to five old phones per active line in a calendar year. And you can always check the credit value of your device online beforehand.
Part 6. New iPhone Data Transfer Tips & Tricks

Transfer Data to New iPhone from Samsung
Bored by Samsung phones? Then the new iPhone are the best alternative. Learn the full guide to transfer data from Samsung to iPhone.
Transfer Data to New iPhone from Other iPhone
New iPhone eclipse old phone models in features and optionality. But before reading this guide, don't say you actually know how to transfer data from old iPhone to iPhone.

Transfer Messages to New iPhone from Android
Nightmare to fail to transfer Android messages to your newly got iPhone. This informative post shows 100% working solutions to transfer messages from Android to iPhone.

Transfer Data from PC to New iPhone with/without iTunes
When it comes to transferring data or files from your computer to your new iPhone, there are a lot of easy and fast ways to do that, whether you want to do it with or without iTunes.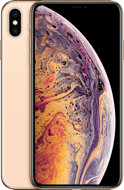 Best iPhone Contacts Transfer App & Software
In this article I am going to introduce 7 iPhone contact transfer software and apps that you need to use for transferring your contacts to a new iPhone XS, iPhone XS Max, or iPhone XR.
In this informative guide, we have come up with 4 stepwise solutions to help you add ringtones to new iPhone. Read on and learn how do you add ringtones to iPhone without any trouble.

Import Contacts to New iPhone from Old iPhone
After buying a new iPhone, a lot of users might ask "how to transfer contacts to my new iPhone?" Here in this article, you will learn 4 different ways to import contacts from old iPhone to iPhone XS or any other new model.
Free Contact Manager for New iPhone
To make things easier for you, we have selected the best free contact manager for new iPhone. Read on and learn in detail how to edit, add, merge, or export iPhone contacts on PC.